Le Marché at Chez Angela
Helping you get your essentials in one stop.
"Le Marché" means "The Market" in French. We're working hard to make your grocery shopping easier, and helping you find and purchase food with a focus on local.
We are working hard to increase availability of these items and will continue to do so in the weeks ahead. We are training as a team on new recipes and procedures to make sure that we can give you a diverse set of products your family will love.
If you have alread placed an order (online or on the phone) we would be happy to add these items on as they are available.
Call 204-721-0719 ext 3 to order during business hours, or send James an email!
---
In-House, Fresh-Made Here
Don't forget! We have a wonderful assortment of other meal items like quiches, or ready-to-serve items like made-to-order sandwiches and stone hearth fired pizzas! We make these all from scratch and do our best to keep in stock. Please order ahead to ensure availability.
$16.00 Homemade soups (1 qt, flavors vary daily)
$15.00 DIY-Pizza Kits (includes 2 pizza dough, homemade sauce and Bothwell mozza)
$18.00 DIY-Sugar Cookie Decorating Kits (8 cookies, 4 colors, sprinkles)
$16.00 You-Make Banana Bread Kit (add your own eggs)
$17.00 You-Make Banana Bread Kit (includes eggs, pickup only)
$18.00 Heat-And-Serve Pasta Bolognese (serves 4)
$18.00 Heat-And-Serve Pesto Pasta (serves 4)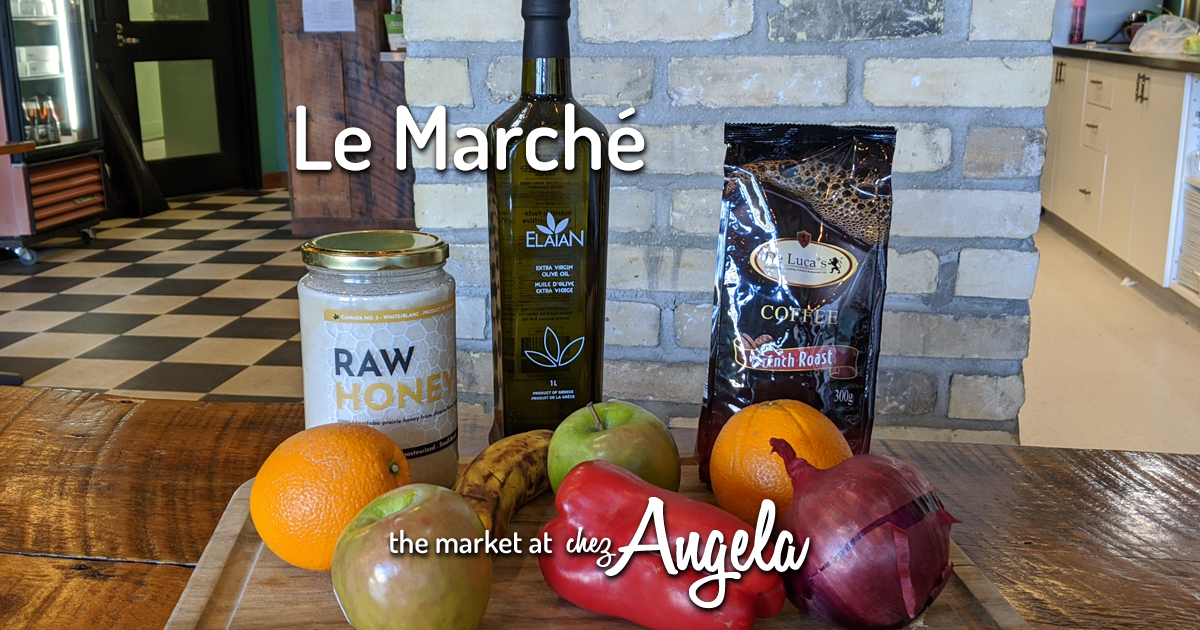 Frozen Foods Availability Varies
We recommend calling ahead to ensure we have these items in stock as we work to increase our availability. Some frozen items are only available on Fridays and Saturdays. All items are made from scratch with a focus on premium local ingredients.
$20.00 You-Bake Chicken Pot Pie
$24.00 You-Bake Italian Sausage Lasagna
$10.00 You-Bake Ultimate Chocolate Chip Cookies (dozen)
$10.00 You-Bake Butter Garlic & Cheddar Biscuits (six)
$12.00 You-Bake Baguettes Parisiennes (six)
Grocery
A selection of local goods and essentials to save you a trip to the store.
$6.75 Notre Dame Creamery Butter (454g)
$10.00 Essentials Fruit and Veggie Pack (Two options)
$8.00 Fresh Roots Farm Raw Honey (500g)
$12.00 Fresh Roots Farm Raw Honey (1kg)
$18.00 Elaian Extra Virgin Olive Oil (1L)
$8.00 De Luca's Coffee Beans and Grounds
$7.00 Kombucha from Boho Soul Market
$9.00 Freshly Pressed Juices from Wheat City Juice Co
Thank you for supporting local businesses.